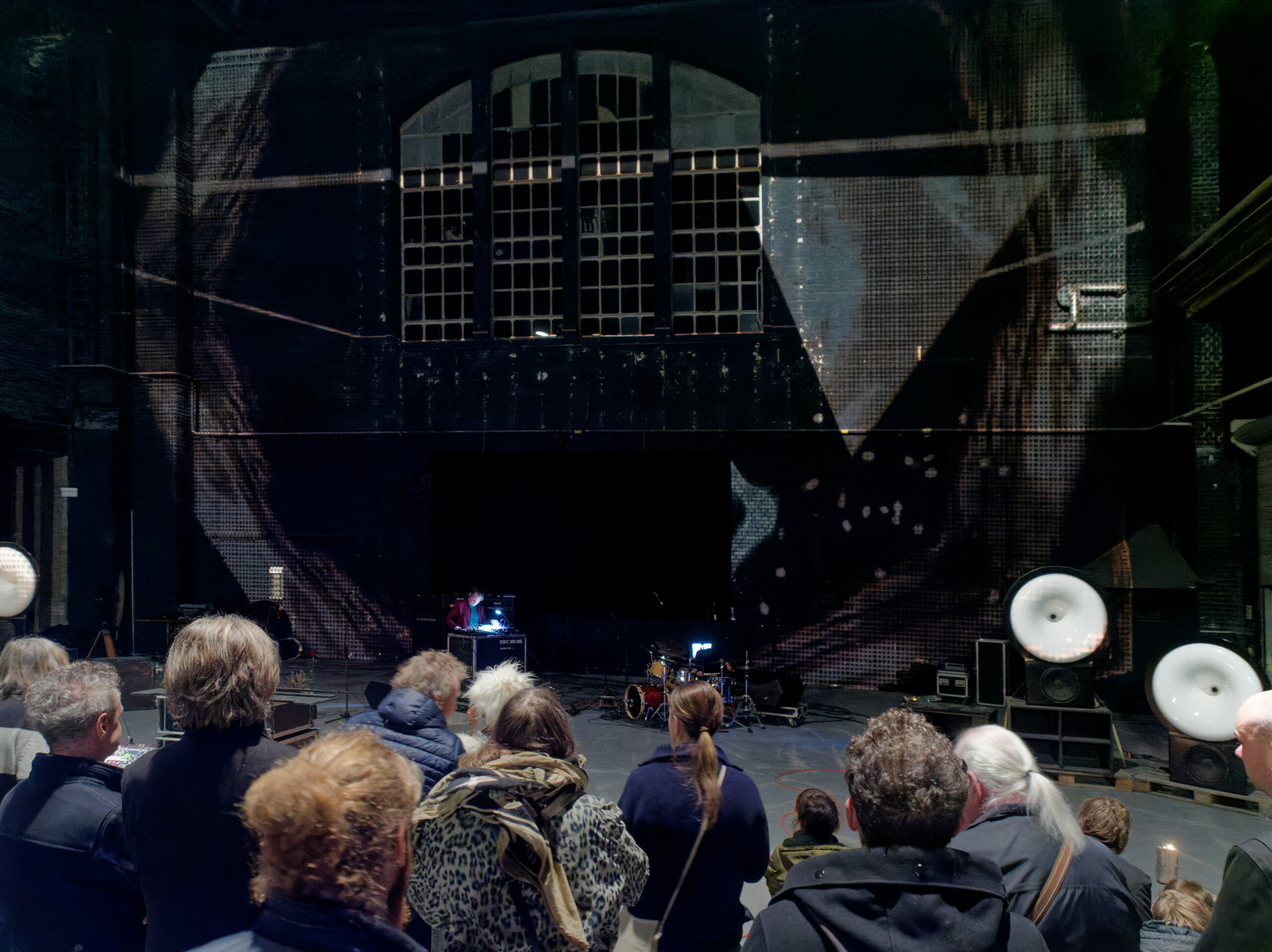 [EN] One must imagine hÄK / Danzeisen as a man-machine apparatus. A collection of cables, resonating bodies and restless limbs that together question all routines. Who overthrow conventional role of instruments and explore the possibilities of a new sound language.
Bernd Norbert Würtz alias hÄK operates modular synthesizers, self-soldered circuits and control knobs. Philipp Danzeisen plays a drum kit enhanced with triggers and sensors. These two poles are connected to an interdependent whole in which a constant musical dialogue takes place. The dependencies within this system have been meticulously defined by hÄK /Danzeisen: Drum rolls and sound modulations are interconnected in such a way that there is no contradiction between the strict technological structure and the creative outburst that is possible at any time.
What drives hÄK / Danzeisen is the basic idea that the contrast between acoustic drums and synthetically produced sounds must be overcome in order to create a new experience. Würtz, Danzeisen and their combined instrumentation simultaneously rub up against the same edges,finding a single, piercing voice.
Ideal manifestations of this approach are the duo's live performances: raw energy that oscillates as precisely as it surprises between drones, abstraction and noise attacks, driven by an impudent take on jazz. Constantly oscillating between the registers of  "composed" and
"improvised", each performance by hÄK / Danzeisen ultimately becomes one of a kind.
[DE] Man muss sich hÄK / Danzeisen als einen Mensch-Maschine-Apparat vorstellen. Eine Ansammlung von Kabeln, Resonanzkörpern und rastlosen Gliedmaßen, die gemeinsam alle Routinen hinterfragen. Die herkömmliche Rollenverteilungen über den Haufen werfen und die Möglichkeiten einer neuen Klangsprache erforschen.
Bernd Norbert Würtz alias hÄK bedient Modularsynthesizer, selbst verlötete Schaltkreise und diverse Kontrollregler. Philipp Danzeisen spielt ein mit Triggern und Sensoren erweitertes Schlagzeug. Diese beiden Pole werden zu einem interdependenten Ganzen verbunden, in dem ein konstanter musikalischer Dialog stattfindet. Die Abhängigkeiten innerhalb dieses Systems haben hÄK / Danzeisen genau definiert: Trommelwirbel und Klangmodulationen werden so miteinander verschaltet, dass zwischen der strikten technologischen Struktur und dem jederzeit möglichen kreativen Ausbruch kein Widerspruch besteht. Das eine bedingt das andere. Antrieb von hÄK / Danzeisen ist die Grundidee, dass der Kontrast zwischen akustischem Schlagzeug und synthetisch produzierten Klängen überwunden werden muss, um einen neuen Sound zu schaffen. Würtz, Danzeisen und ihr gemeinsames Instrumentarium reiben sich gleichzeitig an denselben Ecken und Kanten und finden so zu einer einzigen, durchdringenden Stimme.
Ideale Manifestation dieses Ansatzes sind die Live-Auftritte des Duos: rohe Energie, die so präzise wie überraschend zwischen Drones, Abstraktion und Noise-Attacken pendelt, getrieben von einem traumwandlerischen Verständnis von Jazz. Durch das stete Changieren zwischen den Registern"komponiert" und "improvisiert", wird jede Performance von hÄK / Danzeisen letztlich einzigartig.
(Text: Arno Raffeiner [EN & DE])